Coaching Conference 2019
Feedback from this year's coaching conference has been extremely positive thank you! We seem to have got the mix of theory and practical just right to suit everyone's needs and we were so pleased to be able to use our National Training Centre to host the second day. Congratulations to Advanced Coach, Sarah Healing, our Coach of the Year from Penniwells RDA in Greater London; Judi Ralls, Regional Driving Rep for Greater London who won the Extra Mile Award and Lizzie Bennett, our High Performance Coach of the Year, who has excelled in the development of vaulting within her region over the last twelve months.
Coaching Pathway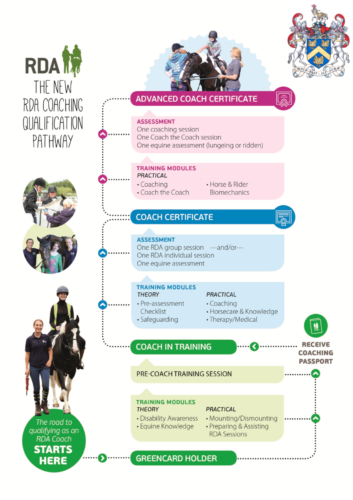 If you are currently volunteering at a group and have had your Green Cards signed off, click here to find out about the next step. If you have external qualifications within the equestrian or therapy world, you may be exempt from some modules. To check which modules you may be exempt from, click here.