Following on from the success of the SEIB Search for a star competition we are delighted to announce that we will be running three RDA Showing classes as part of the RDA National Championships.
There is a series of showing training videos available to watch on the RDA YouTube channel
The three classes are as follows:
Ridden Horses / Ponies Led ( Walk & Trot)
Ridden Horse / Ponies Unled (Walk & Trot )
Ridden Horses / Ponies Unled ( Walk, Trot & Canter)
Classes will be judged on:
Turnout – cleanliness and condition of equine/tack
Conformation of the equine with the suitability for the rider/job in mind
Overall impression
All classes will require a group walk only go-around followed by an individual show. For more details on judging criteria and what is required in an individual show please see the RDA Competitions Rule Book.
For those classes that have a side walker then the COVID-19 RDA rules apply. This is currently that the side walker accompanying the competitor must be from the same household/support bubble. Leaders may be from outside the household/ support bubble as long as social distancing is maintained with mitigation (e.g. 1m plus a face covering). Please be aware that these COVID-19 rules are subject to change.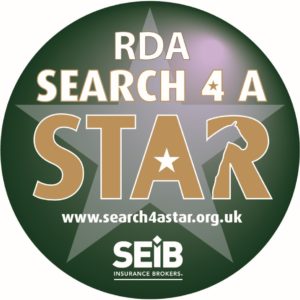 SEIB Search for a Star Showing Class
The competition is open any to rider associated to an RDA Group who can walk and trot independently. Entry is subject to the Groups approval for each horse and rider. Stewards will be on hand to explain what to do. Riders will be asked to enter the arena, and walk round, they will then be asked to line up. Riders will then be asked to give a short individual show that can include canter but this isn't compulsory, just a short display showing the capabilities of the horse and rider. As well as a ridden show the horse and rider will be asked to come out of line and stand for the conformation judge to have a look at the horse.
Any type of horse is able to compete and the class will be judged as follows
Conformation 30%
Turnout of Horse & Rider 30%
Suitability, manners & way of going 40%
If numbers of entries are high the class will be split into sections with the top competitors returning for a final judging. Riders should be neatly turned out, clean and tidy but tack and saddlery suitable for the rider not the show ring will be encouraged.
For information to follow shortly and can be found on the showing page of the RDA National Championships webpage.
For full details please see SEIB Search 4 a Star RDA Showing Championship