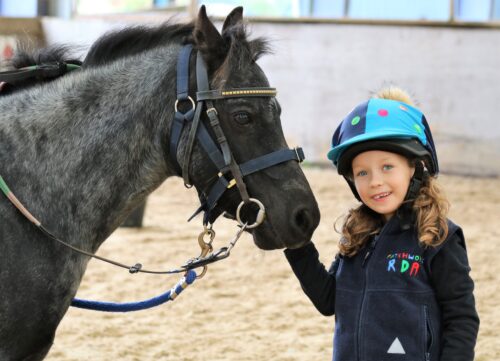 With restrictions now almost completely removed across the UK, any decisions about precautions that RDA Groups may choose to still keep in place in their setting shoul always be participant-led and also supportive of individual volunteer and staff choice – whilst of course continuing to maintain best practice around hygiene and bio security, and a common-sense approach to ongoing Health & Safety policies and processes.
Our RDA Group has not yet been able to return to any activity since March 2020 – what do we need to do when we're ready?
We're aware that for a small number of RDA Groups, and in most cases for reasons beyond their control, returning to any RDA sessions or activity since the beginning of the pandemic just hasn't been possible.
We're mindful that in these situations, much of the preparation assessment of equines, volunteers, training etc. will still apply even with COVID restrictions removed from the equation, as would be the case for any period of prolonged absence or downtime. Many aspects of the former 'Road to Restart' process other than COVID-specific elements remain relevant and will need to be undertaken, in order to be able to start up again on as safe a basis as possible and to continue to be covered by RDA insurance. This will include assessment of equines, especially if sanitisers and face coverings etc. are still in use at your group as they will need to be acclimatised to these.
Please note that the only document that needs to be submitted to RDA National Office is the Road to Restart Checklist below.
Please send applications to groupsupport@rda.org.uk. You will receive email confirmation once the application has been approved.
Our Group has already been signed off by RDA National Office post-COVID to return to activity – what will have changed for us, since the lifting of restrictions?
As before, if you have already been signed off by RDA National Office to return to activity post-COVID, there is no need to reapply to continue with your activities. If you've not already done so, we'd advise liaising with those at your group to explore and agree which – if any – specific precautions may still be suitable in your own setting; for example with tasks such as mounting/dismounting.
Do we still need to complete COVID risk assessments?
There is no longer any need to complete a stand-alone COVID risk assessment, however as biosecurity/ infection control should always be a key Health & Safety element in wider risk assessments, you should continue to include, monitor and review any processes that remain in place at group level, and record this in your session and venue risk assessments in the usual way. It may well also be appropriate to consider specific risk assessments for individual participants, if deemed to be at particular risk (e.g. Clinically Vulnerable or Clinically Extremely Vulnerable).
Wearing of face coverings/ masks
There is no longer a requirement for these to be worn in RDA settings. However, it's worth noting that should a school or care home's own risk assessment still require face coverings to be worn by all, including RDA volunteers or staff, whilst at RDA sessions, then RDA Groups should work to accommodate this. Groups may choose to discuss and agree the wearing of face coverings for specific activities. Likewise, if an individual volunteer still wishes to wear a face covering at all times, they may.
Hygiene: What about hand washing/ sanitising?
RDA recommends that Groups continue to offer specific cleaning and hygiene options – and in particular hand sanitising/ hand washing facilities, as this is best practice regardless of COVID and is important for overall biosecurity and welfare, including that of equines and any other animals on site. Groups may explore their own cleaning regimen for tack and equipment, as they feel appropriate.
Do we still need to obtain signed or acknowledged COVID consent forms?
No, this is no longer a requirement, and has been removed from the Road to Restart checklist. It is still best practice, however, to brief volunteers on any processes you've opted to still keep in place at your group, what to do if they feel unwell (even if COVID is not suspected) etc.
COVID Track and Test/ Track and Trace
There is no longer any requirement to retain records of those attending, for this purpose. Groups will still invariably have lists of those present at each session regardless, and this continues to be applicable in the case of safeguarding, fire, or other emergency on site.
What should Groups do in the event of someone being ill with COVID, or possibly being exposed to infection?
For the latest guidance on how to approach sickness and any related precautions, please view the specific information from the NHS here, on www.nhs.uk: